Current Work Programmes
The Whakamana te Waituna integrated catchment management programme is a framework for the plan for the catchment. Read More.
Read on to learn about the different work programmes that are currently underway in Waituna. Need to get in touch with someone about Waituna? There are various organisations and groups working together, you can find their best point of contact here.
Arawai Kākāriki
The Awarua-Waituna Wetland complex is part of Arawai Kākāriki, a large scale wetland restoration programme led by the Department of Conservation with the goal to protect wetlands and increase our understanding of these environments. Waituna is one of three significant wetland sites across the country that are part of the programme, it also includes Whangamarino Wetland in the Waikato and Ō Tū Wharekai in Canterbury.

DairyNZ
DairyNZ has been involved with science and research efforts in the Waituna catchment and lagoon over the last five years. This work has included research to understand lagoon health, catchment water quality and loads, potential mitigations for nutrient management, and the social and economic impact of farm nutrient limits.
Environment Southland
As a regional council, Environment Southland is responsible for the sustainable management of Southland's natural resources - land, water, air and coast - in partnership with the community. Staff from various different teams at Environment Southland are involved in a range of activities in Waituna.
Living Water
Living Water is a ten-year partnership (2013 to 2023) between the Department of Conservation and Fonterra, working with local communities, dairy farmers, iwi/hapū and other stakeholders to implement game changing and scalable solutions that demonstrate sustainable dairying in healthy freshwater environments. Awarua-Waituna (Waituna catchment) is one of five key focus catchments for the Partnership.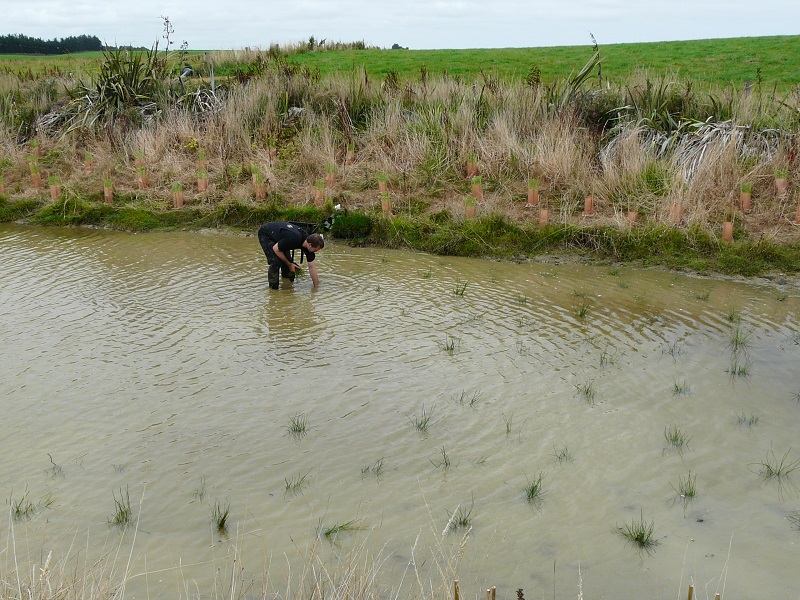 Waituna Landcare Group
Formed in June 2001 as a result of as a result of local concern being expressed about the health of Waituna Lagoon. In more recent years with the emergence of other groups, the Landcare Group has been involved in setting up and maintaining riparian planting sites around the catchment, using plants from their own plant nursery; restoring a gravel pit to a wetland; working with Gorge Road School Waituna Ambassadors; and continued promotion of, and awareness of our local environment and its special values, through an annual World Wetlands Day event in February, often involving the whole Gorge Road School.
Whakamana te Waituna
The Whakamana te Waituna programme has been established to address the pressures on, and ensure the long-term resilience of, the Waituna community, catchment and lagoon.
The three main work streams of the programme include:
Develop a landward buffer around the lagoon
Use of nutrient and sediment interventions to protect the lagoon and tributaries
Enhance social, cultural and environmental resilience, and improve access to the lagoon for the community as a whole