Efficacy of tile drain filter systems
Extensive tile drain networks (drains under the ground) exist throughout Southland. They improve growing conditions for pasture and crop by removing excess water from the soil. However they also provide a great conduit for nutrients to travel directly to waterways. This project is trialling the use of filters at the end of existing or new tile drains to intercept and remove nitrogen and phosphorus transported through these drainage networks.
This project was jointly funded by DairyNZ, NIWA and Living Water, and supported by Environment Southland.
Purpose of the nitrate catcher trial
The 'nitrate catcher' aims to remove nitrate as it passes slowly through a wood chip filter bed. Naturally occurring denitrifying bacteria, typically found in wet soils, convert nitrate to nitrogen gas. The bacteria use carbon from the wood chip as a food source and nitrate in the water as part of their respiration process. The two-year study also looked into how environmental conditions such as flow and temperature influence how much nitrate can be removed.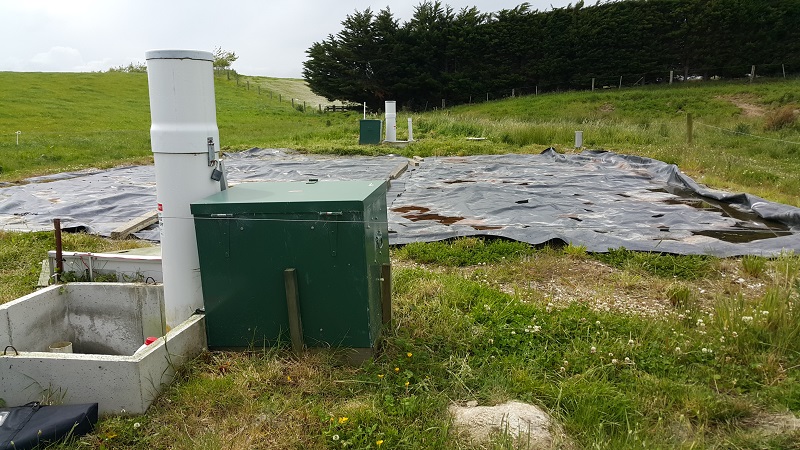 The study found that the annual median concentrations of nitrate-nitrogen entering the filter (i.e. discharged from the tile drain), and discharged from the filter were 2190 μg/L and 421.5 μg/L, respectively. Samples from throughout the trial have found that the median daily load was reduced by 93.8 percent, and the median nitrate-nitrogen yield from the field was reduced from 1.83 kg/ha/yr to 0.11 kg/ha/yr.
The effectiveness of the 'nitrate catcher' depended on how long the water sat, and to a lesser extent, temperature, both of which varied between seasons. While the trial showed significant reductions in nitrate losses, more could be done to reduce losses, particularly during high rainfall in Autumn and Winter. The flow could be managed by incorporating a buffer chamber into the filter design, or by temporarily retaining some of the drainage water in the landscape, within the drains themselves. Another approach could include a bypass system to restrict water flowing into the filter once a defined flow threshold was achieved. These and other approaches could be combined to accommodate considerations of a specific site (e.g. soil, gradient and farming system factors).
More details about the study can be found in this published scientific paper.