News and notices
The latest news and notices for Waituna can be found below.
2018 11 Waituna freshwater management programme
2018 08 Whakamana te Waituna Newsletter
2018 06 Waituna toxic algae alert removed
2018 05 Waituna Lagoon opened to the sea
2018 05 Duck hunters advised to take care at Waituna
2018 04 Toxic algae still present in Waituna Lagoon
2018 03 Toxic algae found in Waituna Lagoon. Frequently asked questions about toxic algae can be found here.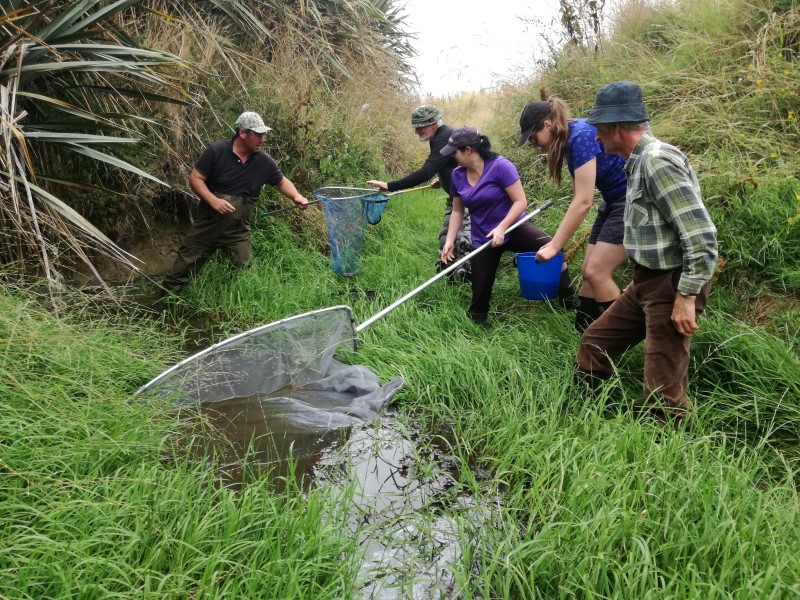 2018 01 A fishing expedition with a difference
On Saturday 27 January a small group of volunteers met at the Waituna Creek to rescue a number of Giant Kokopu who had found themselves struggling with the low water levels. Earlier in the week, Environment Southland Catchment Works Inspector Craig King had found several dead and dying kokopu in the creek, and after contacting the Department of Conservation he organised the fish rescue operation. About 36 kokopu and inanga were caught and moved further down the catchment, although equally as many dead fish were spotted. On Monday 29 January the Department relocated another 16 kokopu, 15 inanga and a koura on Moffat Creek; however an eel that was spotted wasn't keen to be moved.
Department of Conservation Senior Ranger Jane Bowen said native species were struggling with the current low levels in waterways across Southland. "It's been pretty grim going down there and everything is dried up, it's pretty much just ponds in front of the culverts that still have water in them," she said. Fish trapped in ponds are also suffering. "You get these small pools and they heat up really badly because they are shallow and the sun is beating down. When you have so many fish in the pool you get greatly reduced oxygen, and it is very distressing to see them in these conditions, gasping at the surface for oxygen, rotting." If you know of any places where the fish are struggling to survive, please contact Jane Bowen, Department of Conservation Senior Ranger for Awarua Waituna on 027 204 2310.
2018 01 Waituna Liaison Committee AGM to be held in February
2017 09 No toxic algae found in latest results
2017 08 Cyanobacteria found in Waituna Lagoon
2017 08 Southland needs more Waituna-like responses