Lagoon Monitoring
Waituna Lagoon
Monitoring at the four Waituna Lagoon State of the Environment sites began on 4 August 2003. At various times there has also been monitoring carried out at other sites including Shand Bay and Walker Bay in 2002, and the lagoon monitoring platform from June 2012 to February 2017. Occasionally (2010, 2011, 2012) there has also been monitoring undertaken when the lagoon has been opened to understand the quantity of nutrients and sediment being flushed out.
The current sites are monitored on a continuous monthly basis, with one site having the top and bottom measures recorded and sampled. The information collected for this programme is used specifically for monitoring of key values and for trend analysis of the lagoon health. It will help us better understand how the system functions and which stressors are likely to dominate the system.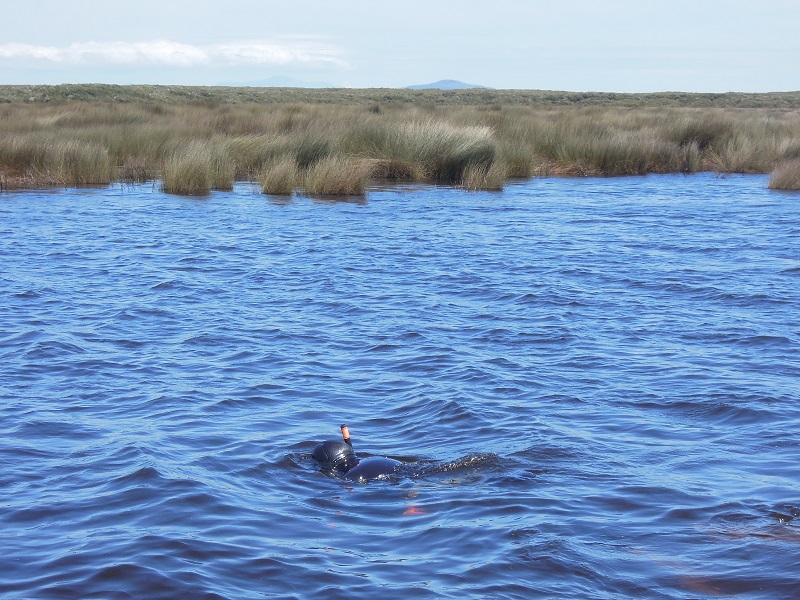 Changes to Lagoon Monitoring Programme
In 2013 Environment Southland suspended its macrophyte and algal monitoring work in the lagoon due to high cost and health and safety concerns.
The monitoring began in 2011 to track the growth and health of ruppia and other aquatic plant species, as well as attempting to quantify algal abundance, which are all important indicators of lagoon health. It involved diving in the lagoon every three months to investigate seasonal growth patterns of the different vegetation types, and the effects of lagoon openings. We were visiting a subset of the sites sampled by the Department of Conservation during their annual lagoon vegetation surveys.
The quarterly surveys required two snorkelers in the water, a boat skipper, very calm weather preceding and during the surveys, and took three or four days per sampling occasion. We were struggling to fit this into our workload and infrequent weather windows, and diving six hours a day for several days during winter was a tall ask of our staff, as the water is very cold. As such, we are investigating other ways to monitor the macro-algal growth in the lagoon.
The annual ruppia surveys undertaken by the Department of Conservation are continuing, which will provide information on the long term vegetation trends in the lagoon.
Lagoon monitoring updates